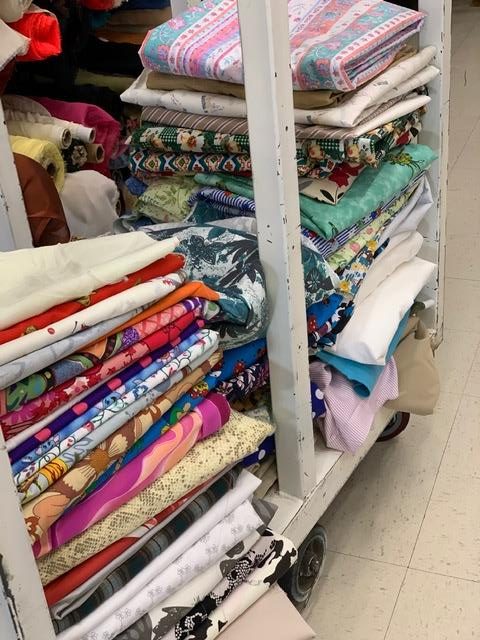 Fabric Donations
Stay Healthy Y'all!!
First of all… We want all First Responders to know how much we appreciate you risking your lives during this worldwide crisis!!
We also want to give a shout out to all the AWESOME: Crafters, Makers, Sewers, & everyone else volunteering their time & talents to make fabric masks.
F&M Fabrics/The Fabric Market have decided to donate pre-cut pieces of fabric & elastic to anyone willing to come pick it up:
TOMORROW ONLY: Friday March 27,2020
11am – 2pm (or until we run out!)
This is on a first come first serve basis!!
We are also still accepting orders online, but we have been filling orders for elastic non-stop since Monday, so our 1/8″ & 1/4″ elastic inventory is now extremely depleted. We don't know exactly how much we still have but once we run out of the regular stock, we will fill your orders with the other more decorative & colored elastics that we have on hand. Although it might not be just black or white.
We are working as fast & as hard as we can so, please be patient with us. We are extremely overwhelmed with all of your orders & requests. We realize the importance of these masks, which is why we have remained open & why we are donating so much to the cause.
We are still unsure when we will be returning to our normal hours, so please keep up to date with us on Social Media (ie: Facebook, Instagram, Website, & Blog.)
Shop: www.thefabricmarket.com
Local Customers: (within driving distance)
If you live within driving distance of our store, you have the option of placing orders online & picking them up. We will call you once your order is completed & ready for pick up.
Frequently Asked Questions:
We strongly encourage you to read through our FAQ Page for answers to many of the most commonly asked questions. There is also quite a bit of very useful information, important to know before & after purchasing fabrics from us.
If you still have questions please feel free to contact us via
Email (preferred): [email protected] or Phone: (661) 873-9566