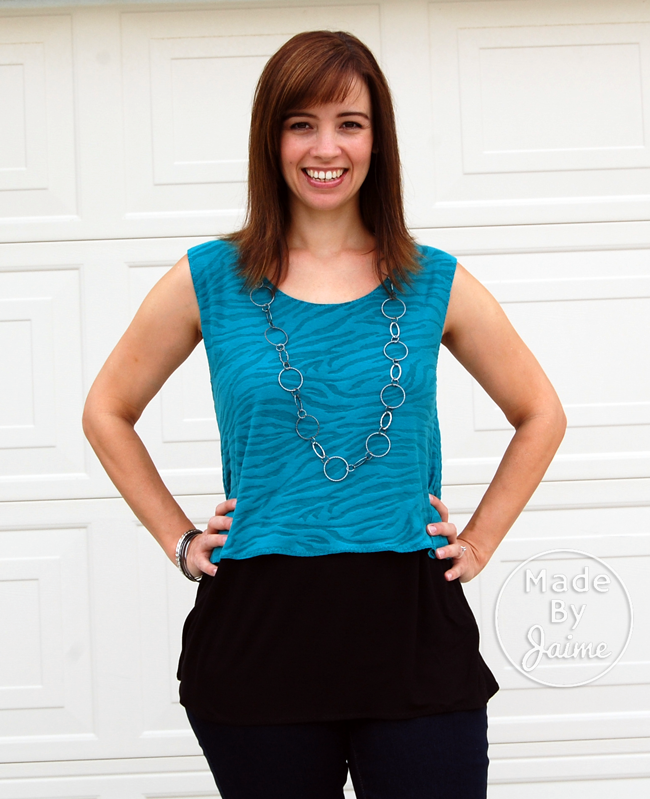 Double Tier Women's Tank Top
If you're still facing the heat in your area, you might want to pick up the Tank, Double Tier Tank and Crop Top Pattern by Seamingly Smitten. This is a printable PDF pattern so if you've never worked with PDF patterns before, this post has a great explanation for how they work!
The subtitle at the top of the Tank, Double Tier Tank and Crop Pattern by Seamingly Smitten says, "sewing patterns for beginners". Though this is a knit-only pattern, there is no need for a serger, there are no buttons or zippers and only 12 pages to print. Pattern sizing goes from XS to XXXL or 0-26!
Browsing up and down the aisles of the local Fabric Market shop, I found a solid black jersey for the base and this fun teal zebra stripe cutout tissue jersey for the top layer. Both are lightweight, comfortable and perfect for layering!
There are 8 possible styles in this pattern including high low or straight hems (or a combination of both in different layers), single or double layers. My measurements fell in the Medium column on the Size chart, but there are tips for choosing your size, sewing with knits and what stitch to use on your sewing machine. The instructions explain how to print & tape the pattern together .
The instructions use photos of a shirt in progress and simple construction techniques. I was curious about their method of joining the layers and turning the neck and arm holes but it worked like a charm and made it super easy. There are two line options for placing the pattern on the fold – a petite cutting line and a regular cutting line. I think next time I make this I will cut on the petite line. There is no guide to choosing the appropriate cutting line in the written instructions, but the patterns are sized similar to ready to wear. If you prefer a slimmer fit in RTW, then I would choose the petite width on the Seamingly Smitten patterns.
TheFabricMarket.com has lots of jersey prints and solids available for a great handmade wardrobe. Don't forget to share your creations with us on our facebook page!