Sew Your Own Messenger Bag!
This fall, I asked my kids whether they wanted a store-bought or mom-made backpack for the new school year. My daughter chose store-bought but my son asked me to sew him a mom-made Messenger Bag. We worked together to get the design he had in his head and I'm here today to share the result with you!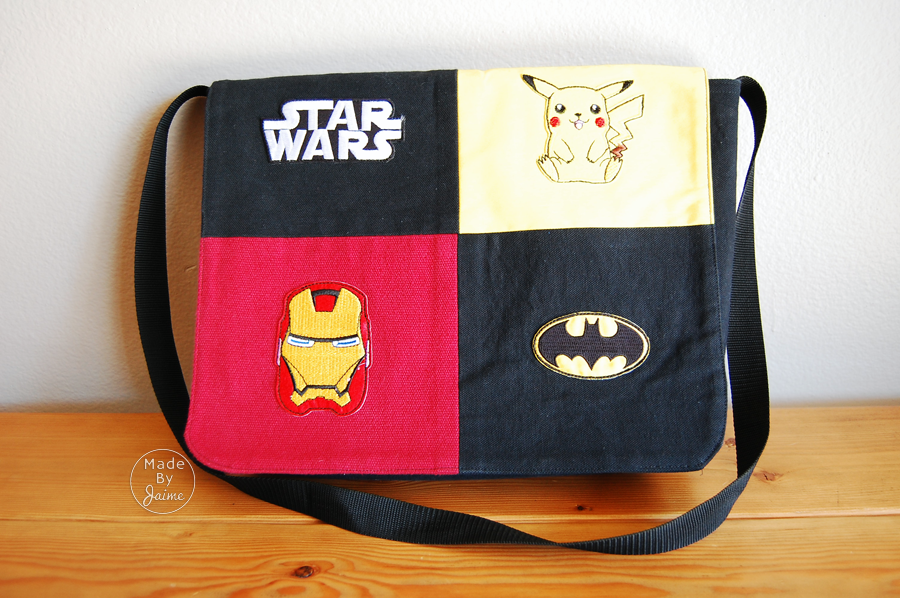 Since this bag was for a 9 year old boy, I knew it had to be canvas (durable) and I knew it had to be black (to hide dirt). My son had a color blocked design in mind for the flap to showcase a few of his favorite patches. For the inside, I just grabbed a cotton print I had on hand.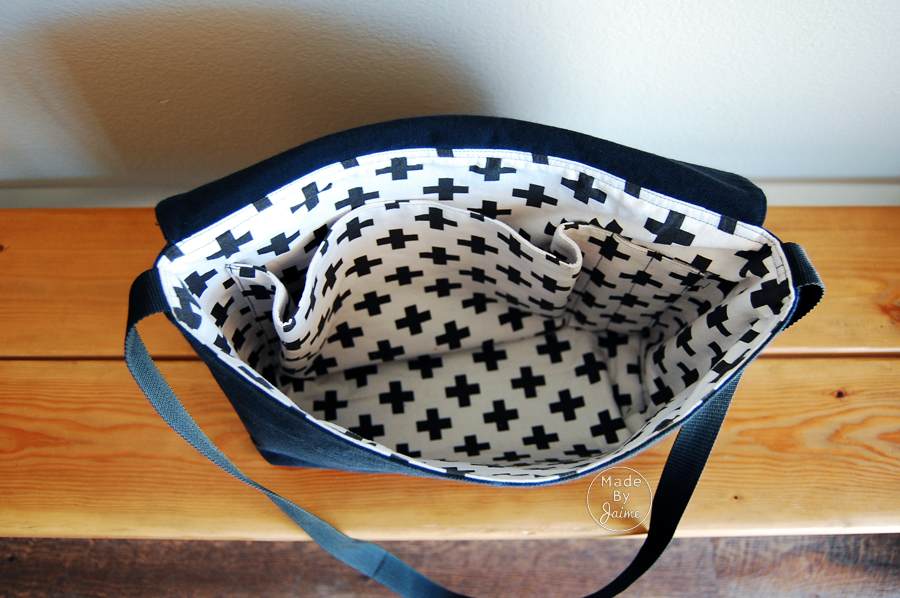 Here's what you need to make your own:
1/2 yard 60″ wide Canvas for main bag
1/4 yard of 2-4 colors canvas for color blocked flap
1/2 yard cotton for lining
1 1/2 yard Woven Fusible Interfacing (like Pellon SF101)
1 1/8 yard Medium Weight Fusible Interfacing (like Pellon 808)
1 yard webbing for strap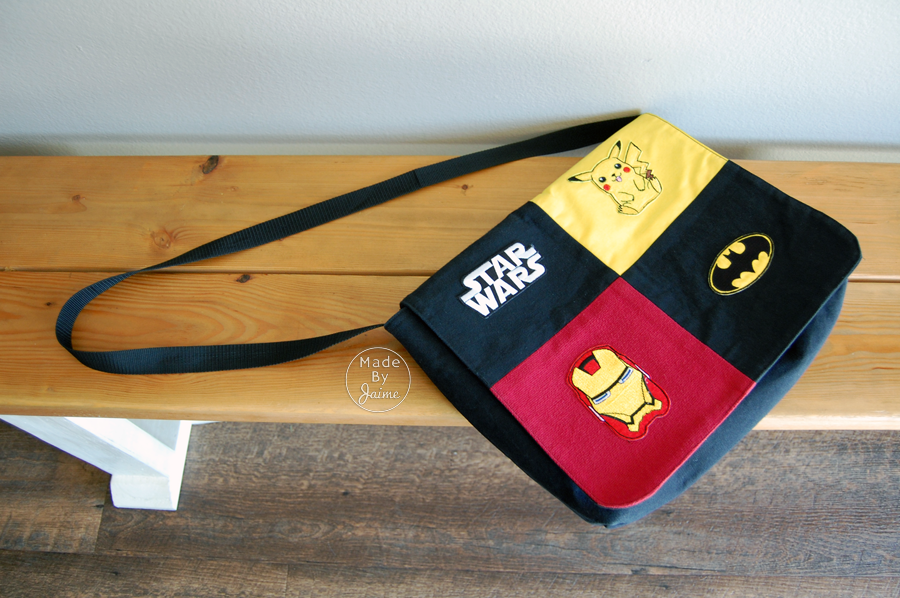 Cut from Main fabric:
16 x 24″ Outer Bag
13 x 14″ Flap Lining
Two 7.5 x 7″ squares for Main Flap
Cut from each Colored Canvas:
Cut from Lining fabric:
16 x 24″ for Inside Bag
17 x 17″ square for inside pocket (optional)
Cut from Woven Fusible Interfacing:
16 x 24″ for lining
17 x 17″ for lining pocket
13 x 14″ for flap lining
Cut from Medium Weight Fusible Interfacing:
13 x 14″ for Outer Flap
16 x 24″ for main bag
Instructions
Fuse all interfacing to their appropriate piece (except the outer flap, which we'll do later in step 9), following insert instructions.
Fold Main Bag piece in half, bringing the short ends together, right sides together. Sew each side with a 1/2″ seam allowance, leaving the short edge unsewn.
Press the seams open and then flatten each corner to sew across, creating boxed corners. I measured up 1 1/2″ and drew a line across in chalk. Sew all layers on the chalk line and trim to 1/2″.

Taking lining pocket piece (17×17) and fold in half, right sides together. Sew the three sides with a 1/2″ seam allowance, leaving a 3-4″ opening on the longest edge for turning.
Turn pocket, press and topstitch across the long edge to close the opening.
Set the pocket on the lining piece, pleat as desired depending on what you plan to carry. Pin and sew the sides and bottom into place. You can do anything you want here! Sew up pen holders, a cell phone pocket etc. Make it work best for you!

Sew up your lining the same way you did your main bag, following steps 2 & 3 above.
The flap is intended to be longer than it is wider so arrange your squares the way you like and sew them together with 1/2″ seam allowances. Press seams open.
Fuse the Medium Weight Fusible Interfacing to the back of your patchwork flap.
– You can sew patches in place now or after the flap is complete. Some of our patches weren't available at construction time so I waited until after construction. Both ways work!
– If desired, baste any trim on main flap. You could use pom pom trim, rickrack, piping and more!
Place flap and flap lining right sides together and sew around the bottom and sides with a 1/2″ seam allowance.
Turn flap inside out, press and topstitch all the way around. You could also decorate with stitching along the seams at this point.
Align the raw edges of the flap on your main bag piece. Baste in place.
Determine the desired length of your strap, align raw edges at side seams of the main bag and baste those in place.
Place the main bag inside the lining piece, right sides together. Pin matching side seams and keeping raw edges even. Sew around the bag with 1/2″ seam allowance, leaving a 4+" opening for turning, backstitching at beginning and end.
Turn bag inside out, press the edge flat. Topstitch around the edge of the bag, closing the opening, making sure to keep the flap and straps out of the way. I added another line of topstitching just to make sure everything was secure.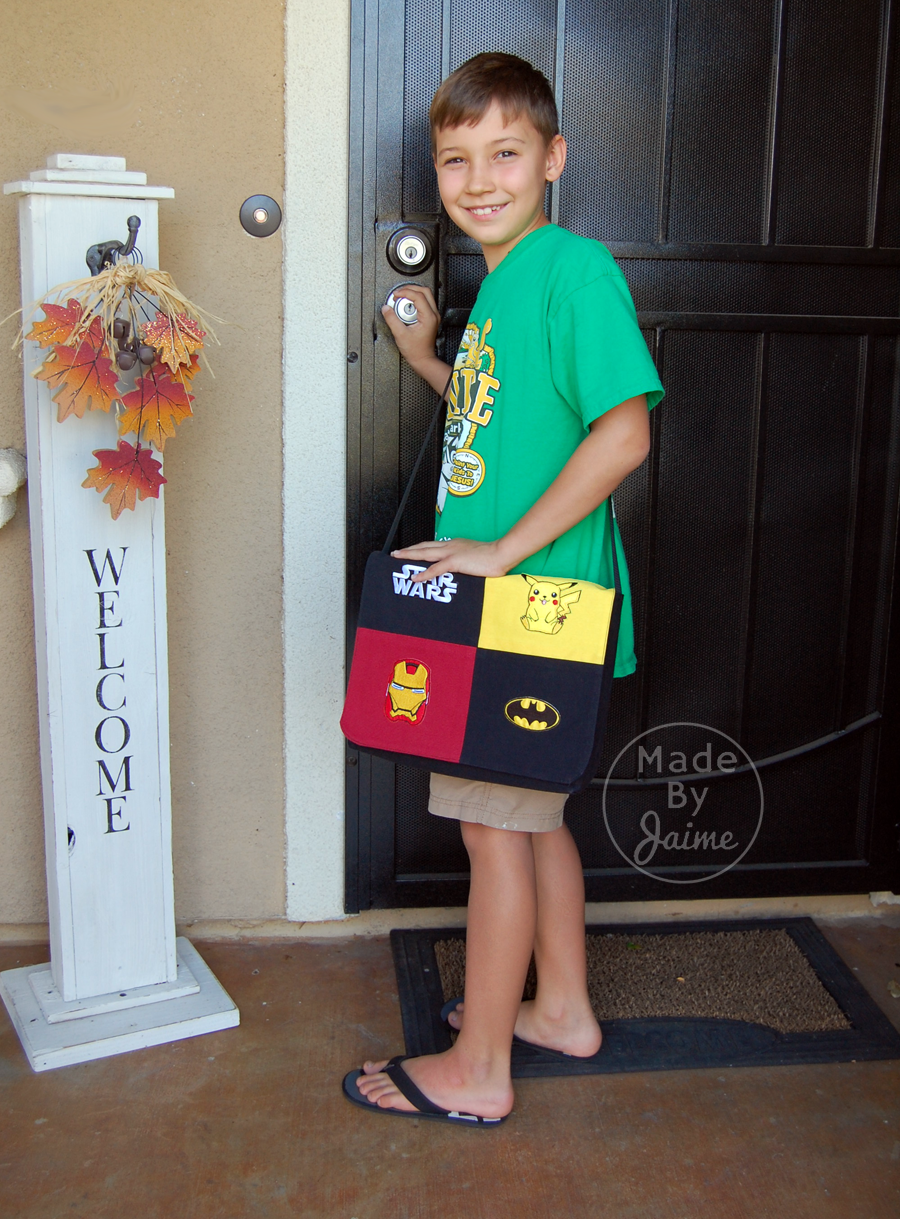 My son loves his new messenger bag and uses it to carry his books each week!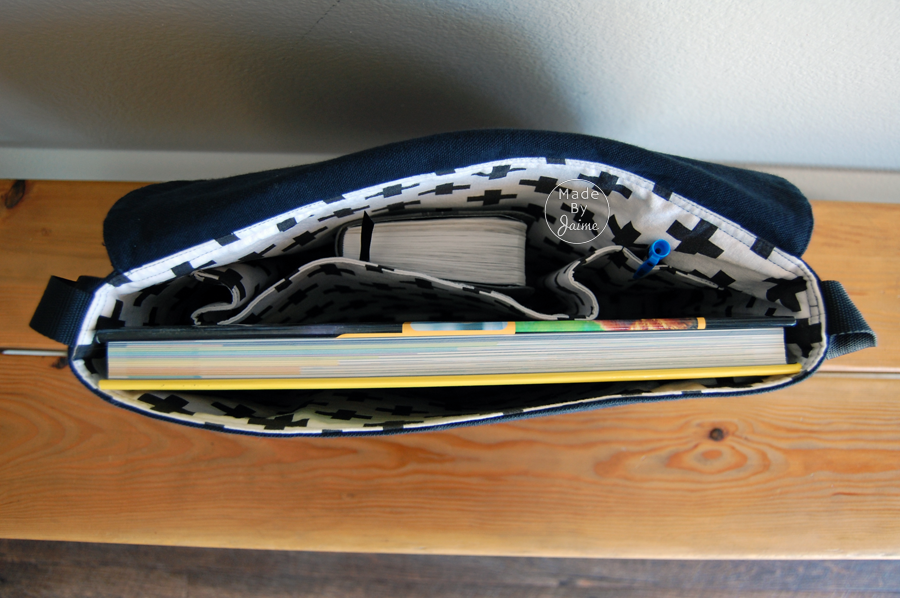 We love that it has a space for everything and that it showcases all the things he enjoys. You could definitely make this bag your own by choosing different colors, embellishments & customizing the pockets and flap.
I hope you enjoyed this tutorial! If you make this or anything else with TheFabricMarket.com fabrics, please be sure to share on our Facebook Page!
You can find me at MadeByJaime.com or on Facebook & Instagram too!
Happy sewing!